Welcome!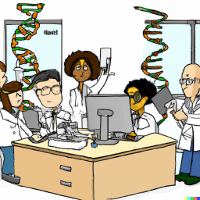 Image credit: DALL-E
Here, you will find information about my upcoming research programme titled "Data-driven methods to unravel hidden layers of genome regulation", which is set to launch in September 2023. I am grateful to have received support from Wellcome Trust though a Wellcome Career Development Award, which will enable me to explore novel aspects of gene regulation genome organisation through computational approaches.
In addition to my upcoming work, I am currently engaged in ongoing research as a member of the Hannon lab at the Cancer Research UK Cambridge Institute, University of Cambridge.
We are recruiting! Please find more details about joining us here.
Dr Susanne Bornelöv
Wellcome Career Development Award fellow
Cancer Research UK Cambridge Institute, University of Cambridge
Li Ka Shing Centre, Robinson Way, Cambridge, CB2 0RE, United Kingdom